05 Dec

Quality Mobility Scooter Repair in West Kirby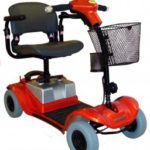 Mobility scooter repair in West Kirby ensures that, no matter what kind of problem you're facing with your scooter, you will be using it again in no time at all. Electric powered scooters make life easy for those unable to walk on their own or without assistance. There are times when the mobility scooter will need repairs, or a service, and, luckily, Easi-Way Mobility is but a call away. Not only are we your one stop shop for your mobility scooter repairs, we also sell TGA Mobility products and other products such as riser recline chairs and nebulisers.
In West Kirby, mobility scooter repair is expertly accomplished by Easi Way Mobility. Easi Way Mobility provides minor and major repairs in the quickest time frame possible –and at the low prices you want to pay. No matter what is wrong with your scooter, we will quickly get it repaired and back to you. We work quickly, but efficiently. We keep our prices affordable for you and our services exceptional. Celebrating 30 years of professional service with our quality standard products, we aim to provide our customers with the mobility products they require.
When you need mobility scooter repair in West Kirby, leave the job to the experts, and you can ensure that you get the fast, friendly and efficient repair that you need. We use quality diagnostics to determine your scooter's problem, and use only trained experts to make the repair. If the problem means a new battery, we have a wide variety of items to accommodate your needs. We are the one and only company that you need to call for any and all of your mobility scooter repair needs. If you need reliable mobility scooter repair, contact Easi-Way Mobility.