19 Sep

Purchasing Quality Stairlifts in Ellesmere Port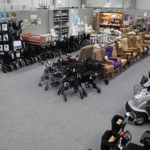 Stairlifts in Ellesmere Port need to be durable and reliable. Specifically made to help disabled individuals travel up and down the stairs, stairlifts have been around for some time. Starting as simple mechanisms that allow easy travel between floors, we now have stairlifts that use advanced technology and design in order to provide as much comfort and ease for the user as possible. As an in-home mobility device, stairlifts have to be safe and very secure, and they should also have features that will prevent accidents and injuries. This is why before purchasing one you should be able to select a product that uses a superior design.
In Ellesmere Port, stairlifts made by the UK's leading manufacturers are available at Easi-Way Mobility. The company stocks a wide array of stairlifts and they are also one of the leading suppliers when it comes to different types of mobility equipment. They make sure that they are able to provide clients with quality products, stocking only those which are able to help their clients improve their quality of life. The company understands the level of trust that clients place on their products, which is why they take the time to ensure that they provide factual information as well as excellent customer support for all those who want to purchase any of the equipment that they have on offer.
Stairlifts in Ellesmere Port can help you or your loved ones stay mobile within the home despite the disability. Easi-Way Mobility has a 4,000 square foot showroom, helping you to select from a wide array of products that are designed to meet different needs. Through their quality manual wheelchairs, scooters, power chairs, profile beds, and other similar products, they are able to help many individuals stay mobile. Whatever your needs and concerns are, you can call Easi-Way Mobility and the company's friendly staff will be more than happy let you know more about their available products. If you need more information about stairlifts, contact Easi-Way Mobility.