16 Jun

Profile Beds in Wirral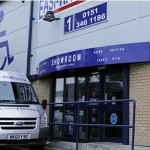 The best profile beds in Wirral can be found at Easi Way Mobility. Profile beds are essential for any medical facility. With profile beds, patients can be placed in positions that relieve pain and accelerate the healing process. Any medical institution worth its salt should have profile beds. Easi Way Mobility is a leading provider of mobility equipment in Wirral working with the best manufacturers in the UK. With an aim to provide their customers with the highest quality products, it's easy to see why Easi Way Mobility is such a highly regarded company.
In Wirral, profile beds are part of the large stock found in Easi Way Mobility's showroom. They have a very varied selection including profile beds, riser-recliner armchairs, powerchairs, scooters, powered and manual wheel chairs, and a variety of associated accessories. Easy Wai Mobility is a family owned business that has been around for over 30 years. By maintaining an emphasis on high quality products and customer service, Easy Way Mobility has managed to ensure the continual growth of its customer base. With a 4000 square foot showroom in Bromborough, Easy Wai Mobility holds the largest stock of mobility equipment in the Northwest. With easy access and a large free parking area, customers can visit Easi Way Mobility's showroom, where they'll be guided through their options for higher mobility.
Easi Way Mobility is your one-stop shop for profile beds in Wirral. With a highly experienced and friendly team, Easi Way Mobility aims to provide customers with the best experience possible. The team at Easi Way Mobility is always ready to showcase products and provide all the details and suggestions needed to make the right purchase. The team has also learned over the years that some mobility problems require custom solutions, which is why Easi Way Mobility's engineers are working in workshops to provide repairs, and wheelchair and scooter conversions. So contact Easi Way Mobility to get more information on profile beds.