03 Oct

Mobility Scooters in Upton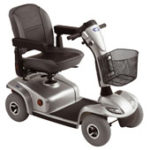 Easi-Way Mobility, supplier of mobility scooters in Upton, offers free test drives of their scooters at their facility. If you have been thinking about acquiring a mobility scooter, this is a good way to try one and see for yourself how quickly and safely you can learn to operate these wonderful machines. They provide an enjoyable way to take back some independence. You could drive down the block to post a letter and stop to visit with neighbours. It is lovely to transport yourself to the park for a few hours to enjoy the sunshine and watch the children play. Of course, the scooters are very handy in the home for maneuvering around the kitchen and going from room to room.
In Upton, mobility scooters are easy to find. Easi-Way Mobility is a family owned company that has been meeting the special needs of the public for 30 years. There is a wide variety of mobility scooters from which to choose. The staff at Easi-Way Mobility is friendly and experienced. They know scooters and they can help you choose the perfect one. The rechargeable batteries used to power the scooters operate from eight miles per charge for some models and up to 34 miles per charge for other models. There are several ranges available in between.
When shopping for a mobility scooter in Upton, please know that Easi-Way Mobility staff value your business and they want to provide excellent customer service. Their experience simplifies the decision making process for you. You may like the scooters that go longer distances and work best in large or outdoor settings. Smaller scooters for easy maneuvering within the house as well as out might be more suitable. One style folds flat, without removing parts, and fits easily in the boot of a car. Your new scooter comes with a guarantee and engineers are available to adjust it to suit you. A repair shop is on the premises to keep your scooter in top operating condition and Easi-Way Mobility offers a payment plan to make your scooter affordable. Easi-Way Mobility can help you safely regain some lost freedoms.