26 Jul

How Can I Maximise the Battery Life of My Mobility Scooter in Birkenhead?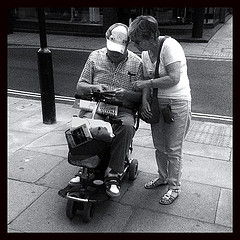 Mobility scooters in Birkenhead from reputable companies come with warranties. Some warranties do not cover battery life, however. Scooters are made to last a particular amount of time. But your aid may not reach its life expectancy if proper care is not given to it. You must learn how to maintain the good quality of your mobility aid, especially its battery.
We advise our customers in Birkenhead with mobility scooters that these vehicles must always be fully charged. You must recharge them at least once a week, whether they were used or not. Don't allow the battery to run out completely. This can be dangerous because you may find yourself stranded in the middle of the road. You must always use the charger supplied by the manufacturer of the scooter or the one the manufacturer recommends. Make sure that the battery and the terminals are always kept clean. Some people don't charge their batteries when they have not used the scooter for a while. This is a mistake because the battery life does not depend on how long you use it but how you use it. If you weigh more and travel on inclining roads with your scooter it will use more power. The type of battery and temperature also has a direct impact on the life span of your battery.
Being active in your mobility scooter around Birkenhead can become a way of life. However, as your scooter grows older, the charging capacity of its battery may grow weak and this could impact your freedom and peace of mind. If you feel like your battery is not performing at its best take your scooter to a company that deals with mobility aids. Companies who have been in this industry for years like Easy-Way Mobility can analyse your battery to see if you need a new one. The company has been a specialist in mobility aids for fifty years. We supply rehabilitation, medical and continence products and equipment. We also provide repair services for all types of mobility aids. Call us today.