27 Feb

Where Can You Find Mobility Scooter Servicing In Wirral?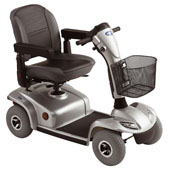 How do you know it is time to seek mobility scooter servicing in Wirral? And most importantly, where do you take your scooter to be serviced? Just a like a vehicle, mobility scooters require regular maintenance and servicing. The frequency will depend on the manufacturer's guidelines and how often you use your mobility device. As a general rule of thumb, all mobility scooters should be serviced at least once a year. It is important to have this done at an authorised mobility servicing center.
In Wirral, the leading mobility scooter servicing center is Easi Way Mobility. They are connected to most large mobility scooter manufacturers, so you do not have to worry about the brand of scooter you are using. This connection to major manufacturers enables them to source new parts and suggestions for any scooter-related problems. Depending on the extent of the servicing, model, age, and issue with the scooter, the servicing can take as little as two hours. The engineer at Easi Way Mobility may also do test run of the scooter to ensure it is running properly. Using the newest technology and equipment, they are able to diagnose and fix all sorts of mobility devices such as wheelchairs, scooters, and other disability and mobility equipment. When you contact Easi Way Mobility, make sure you have the following bits of information with you: Model and Make of the scooter, Serial Number, Manufacturer, and Year of Manufacture. This will help to increase their speed to your response. If you experience an issue with your scooter outside of regular office hours, you may submit an enquiry form online with the required information.
If it is time to seek mobility scooter servicing in Wirral or you are experiencing problems with your scooter, contact Easi Way Mobility today. Apart from scooter servicing, they also specialise in providing a wide range of mobility products such as profile beds, power chairs, incontinence products, nebulisers, daily living aids and recliner chairs.