02 Apr

Electric Wheelchairs in Birkenhead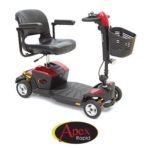 Electric wheelchairs in Birkenhead are available for people who have limited or no mobility. Apart from people with disabilities who require them, there are many others who may require temporary use, for instance, if they are elderly, or recovering from an illness or accident. Modern electric wheelchairs are ideal mobility aids and much more convenient to use than manual wheelchairs since they are motorised. They prevent fatigue and allow the user to conserve their energy for longer periods. They're also much more maneuverable and offer several useful options like speed settings, recline settings, hand-controls etc. However, with the plethora of options available, it's important to select the right type which suits your specific needs. This should be done in consultation with your health-care provider or physiotherapist.
In Birkenhead, electric wheelchairs can be selected from a one-stop shop like Easi-Way Mobility which offers quality mobility products to match the best in UK industry standards. They offer a wide range of electrical wheelchairs suited to many different needs. Transit wheelchairs which are foldable, easy to transport and store, wheelchairs with detachable swing-out seats, self-propelled wheelchairs, with extra space for shopping, etc in a variety of sizes, seat depths, heights, ergonomic designs and many more are available. Wheelchairs for use by geriatric persons are specially built to be simple-to-operate, lightweight and maneuverable. There is a huge demand in the mobilities market for good products at affordable prices.
Some important factors must be kept in mind while selecting electrical wheelchairs in Birkenhead. Wheelchairs have come a long way from the simple, manually operated models that have been available over the decades. It's essential that the person makes optimum use of it with the least amount of assistance. Today, wheelchairs are optimised for specific uses and tailored for every kind of budget. Easi-Way Mobility assures top-quality, high-technology products. Apart from purchase they also have attractive electric wheelchair rental plans for short-term users on a daily or weekly basis. A look at their website will provide the complete details. If you're looking for a premium-quality, sturdy product with dependable after-services, Easi-Way Mobility is the way to go!