19 Mar

Electric Wheelchairs in Wirral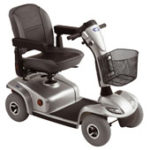 If you have difficulty getting around without assistance, or are afraid you may fall if you walk alone, an electric wheelchair in Wirral can definitely increase your mobility. Powerchairs are great for people with the inability to maneuver their own wheelchairs. The chair is powered electronically, making it a lot easier to get around without assistance. The wheelchair moves forward and backwards for easy steering. There are several different styles available, depending upon what you need.
In Wirral, electric wheelchairs are available at Easi-Way Mobility. They are a family run business that has served the community for over 30 years with quality products and high standards of customer service. They have a 4000 square foot Mobility showroom that provides a huge stock of mobility aids that will meet whatever your needs may be. They will answer any questions you may have and will make sure you get the product that is right for you. Easi-Way Mobility prides itself on having the most innovative products to help you get around with ease. Their goal has always been to provide the most help possible to their customers' needs to move around. Call them or stop by the showroom and they will help you find what you need.
Electric wheelchairs in Wirral from Easi-Way Mobility will give you a feeling of confidence and freedom. You will be able to get around with a lot more independence. There is no reason to wait. You can get going again right away with their high quality mobility devices. Let the team at Easi-Way get you on your way. Get out and enjoy life with an electric wheelchair. For more information about electric wheelchairs, contact Easi-Way Mobility.