08 Jul

Dependable Three Wheel Walkers in Wirral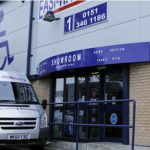 Are you in need of dependable three wheel walkers in Wirral? Whether you are looking for a reliable walker for yourself of a family member, finding the right one is critical to helping regain some mobility. You will want to make sure that you get a walker that is strong and secure, and will hold the weight of the person using it. The three-wheel walker makes it a lot more natural for the user to walk whether at home or away from home. It is held with two hands and moves easily as the person moves forward or backwards. Walkers come with braking systems, so that the user will feel secure walking uphill, downhill or on a level surface. The walker will give you or your loved one the independence that most of us take for granted.
In Wirral, three wheel walkers can be found in a number of places. Visit or call Easi- Way Mobility to look at a variety of different walkers. The walkers they offer come with brakes in the rear wheels that automatically lock when a sudden acceleration occurs. You can rest assured that you will have a safe walking experience. Speed controls keep you walking at a steady pace. The three-wheeled walker not only helps you walk with confidence, it helps you stand straighter and promotes a smooth gait. The speed controls allow you to walk at whatever pace feels comfortable.
Three wheel walkers in Wirral are less expensive than most other mobility equipment.  This is because they are not motorised. Their purpose is to assist the user to maintain a steady gait while walking alone. It helps a person maintain more independence than they might have without it. When people know that they can walk independently, it helps them to maintain more independence with other daily activities as well. Contact Easi-Way Mobility and ask them about the three wheel walkers they have available. They can help you find the right one for your specific needs.