26 Nov

Comfortable Riser Chairs in Chester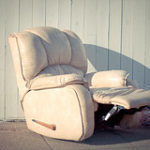 Comfortable and quality riser chairs in Chester have been offered by Easi-way Mobility for over 30 years. For people with back problems, or suffering from stiff joints or muscle weakness, riser chairs could be the answer to their problems. Riser chairs are specifically designed to help people get in the chairs and out of them without experiencing the pain that they would normally do if they use a normal sofa or any other kinds of seats. Depending on a person's physical needs, they might need a specific kind of chair such as powered riser chairs, leg lifters, chairs with neck supports and so on.
In Chester, riser chairs provided by Easi-Way offer a wide range to clients who are looking for comfortable seats to reduce pain when they sit down. The company has helped a number of people looking for the right riser chairs that suit their needs and requirements. Recently, when a client visited the 4000 square foot facility looking for a riser chair, he was presented with quite a few models and makes. The store carries numerous brands such as Primacare Brecon which is available with a single motor, in various colours and fabrics and has a 2 year warranty. Other brands that are available at the store are Rise & Recline and AJ Way. The facility does not only carry riser recliner chairs, they also carry a wide range of products such as wheelchairs, profile beds, powerchairs, nebulisers and scooters. For those who are interested in scooters, the store has TGA mobility products available. TGA mobility products are wonderful versatile vehicles that help the users move from point A to point B without much effort.
For all those interested in riser chairs in Chester and other mobility products, you are welcome to come and visit the Easi-Way Mobility showroom. The friendly and experienced team at Easi-Way Mobility would be more than happy to show you around and help you choose the most suitable product according to your needs. For more information on riser chairs in Chester, contact Easi-Way Mobility.