05 Nov

Riser Chairs In Ellesmere Port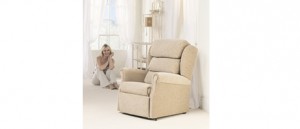 Have you also been looking for riser chairs in Ellesmere Port? You may be on the lookout for great recliner riser chairs as your mother is having problems getting up from bed and even from chairs. Perhaps she is experiencing backache, sore feet and so on, so much so that it has come to a point where she limits her daily activities. That's when you need Easi-Way Mobility, a company which has been providing great riser chairs to help beat this problem.
The company in Ellesmere Port has been providing riser chairs for quite some time. In fact, Easi-Way Mobility opened its doors 30 years ago which makes it one of the leading suppliers in the Wirral. They do enjoy a privileged position when it comes to providing the best mobility aids. You'll be happy to know that Easi-Way Mobility has the solution for your mother's problems. In fact, even if you have your own taste and get fussy about colours and styles, you'll be pleased to know that the company provides bespoke and hand-made riser chairs. If you enquire you'll find yourself exclaiming, "It's not as expensive as I thought!"
The riser chairs in Ellesmere Port are easy to work. At the touch of a button, they will recline so that the person sitting can sit comfortably. The chairs also come with a footrest which will rise so that the person an easily relax in the chair. A riser recliner is great if you have problems sitting down or up or even if you have medical problems. If you have any enquiries regarding riser recliners which the company carries or you are looking for bespoke models, you may contact Easi-Way Mobility on 0151 346 1186.