10 Aug

Rise and Recline Chairs in Wallasey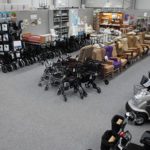 If you're searching for rise and recline chairs in Wallasey, look no further as we at Easi Way Mobility are your one stop shop that supplies high quality mobility equipment in association with the most innovative manufacturers in the UK. In addition to rise and recline chairs we offer a selection of high powered and manual wheelchairs, power chairs, profile beds, scooters and other accessories. We are a family owned business that have been operating for 30 years with years of mobility experience and pride ourselves on quality and great customer service. Over the years we have helped thousands of customers maintain their independence and dignity by helping them choose a mobility aid that will assist them adequately.
In Wallasey, rise and recline chairs work with a mere touch of a button so you can relax comfortably. Each armchair will raise your feet independently, safely and gently. We stock a wide range of options, colours, designs and styles which ensure you will find an armchair to suit your needs. Our friendly experienced team have years of experience with regards to all aspects of mobility and they will be happy to demonstrate the right solution and product for your special needs. Over the years we have learned that certain mobility needs require a bespoke solution, which is why our engineers carry our repairs and conversions daily on scooters and wheelchairs and also service nebulisers.
In addition to rise and recline chairs in Wallasey, we also stock TGA mobility products. Our stunning super sport scooter come with a free of charge unique puncture sealant solution and has a 30 mile range, excellent manoeuvrability and stability with high ground clearance and all terrain stability. These all metal frame scooters are lightweight and sturdy and come with a wide wheelbase that provides maximum stability. We can assist with easy payments using our finance service that allows you to spread payments inline with your budget. If you are looking for rise and recline chairs, contact Easi Way Mobility.