12 Nov

Riser Reclining Chairs in Hoylake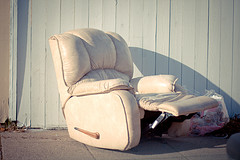 Earlier this week we spoke to a customer who wanted riser Riser Reclining chairs in Hoylake. As a senior citizen, they found it harder than it used to be getting in and out of an armchair, but they realised that it didn't have to remain that way and that help was available thanks to modern technology. That's why they telephoned Easi-Way Mobility. We've been supplying a full range of mobility aids and solutions since 1984. This includes mobility scooters, wheelchairs and profile beds, as well as reclining chairs, so whatever a customer needs, we can supply it.
Hoylake  riser reclining chairs can make life so much easier and more enjoyable. There's nothing better than sitting down in a comfortable armchair and preparing to watch your favourite television show. For people with mobility problems, this can be harder than it sounds. Sitting down and adjusting position in the chair can be uncomfortable and frustrating. Riser reclining chairs are a perfect solution. They're motor driven and operated with the simple touch of a button. They gently recline and can also help you stand up again. They're also extremely robust and can seat people up to 20 stone in perfect comfort. It puts the relaxation back into sitting down.
Our range of riser reclining chairs in Hoylake don't just perform well, they look great as well. That's because each chair is hand made to order. Because they're bespoke, you can get them in a range of finishes, meaning that they'll fit in well with your existing furniture. You can choose from a wide range of fabrics and colours and they can also be covered in leather. The cushions are luxury themselves and filled with soft yet supportive fibres. They can easily be adjusted, to provide even greater comfort. One of the best things of all about these fantastic chairs is the price. Our customers often tell us they were not as expensive as they thought they would be. To find out more about our riser reclining chairs, or other mobility products, talk to our friendly and expert team today.