16 May

Lightweight Mobility Scooters in Wirral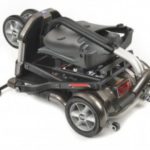 Are you looking for affordable and lightweight mobility scooters in Wirral? These handy devices are great for travelling, moving around and maintaining one's independence. Mobility scooters are motorised devices with wheels. The individual is able to control and manoeuvre the scooter with a set of controls located at the front or side, depending on the model. Mobility scooters are available in a variety of sizes and specifications.
In Wirral, lightweight mobility scooters are available at Easi-Way Mobility. Their scooters are available for a test drive at their Wirral Showroom. All of their scooters have a minimum 18-month warranty. Customers who are interested in lightweight mobility scooters should test drive their TGA Minimo compact scooter. This revolutionary mobility scooter is compact and features a car boot design. It is one of the most advanced and transportable designs. It can be easily folded and placed into the boot of your vehicle and does not require any dismantling. It has a straightforward and pioneering folding mechanism that can be activated by a one-handed operation with minimum effort. The entire operation is completed with a few seconds. Its overall folded weight is not more than 26.65kg. You can use this lightweight mobility device for a day out or for local independence. When not in use, the Minimo requires a very small amount of storage space. Therefore, this device is ideal for individuals with a small car or who have restricted space at home. This robust scooter combines the benefits of rider comfort, drivability and strain-free lifting. Its other benefits include: spacious floor and ergonomic tiller, 115kg weight capacity, 270w motor, 4mph with a range of up to 12 miles and folds in one quick, simple movement.
If you are interested in lightweight mobility scooters in Wirral, then give Easi-Way Mobility a call today. Easi-Way Mobility only stocks products from leading mobility suppliers, thereby ensuring that their customers always receive the best quality for the best value! They also carry wheelchairs, incontinence products, nebulisers, power chairs and profile beds. For a comprehensive range and full customer service call Easi-Way Mobility.