19 Aug

Finding Stairlifts in West Kirby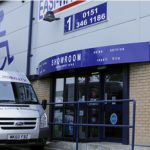 Customers looking for stairlifts in West Kirby will know how important reliable mobility devices are and will not want to compromise on quality. Easi-Way Mobility has the solution and offers reliable and guaranteed quality with regards to stairlifts. Easi-Way Mobility is a family run business who have been blazing the trail in the mobility service industry for the last 30 years. This company will help you keep your dignity and independence with regards to keeping mobile, and will provide customers with reliable and affordable stairlifts.
In West Kirby, stairlifts can be found at Easi-Way Mobility along with fantastic service and industry leading insight that spans 3 decades. Experiencing difficulty coming up or down a flight of stairs is not a unique experience. Thousands of people nationwide have the same problem. Easi-Way Mobility is providing safe and affordable solutions to people for whome mobility is no longer as easy. They will remove the problem people may be experiencing when having to climb a flight of stairs with their innovative technology. Being able to move around one's house without discomfort or hardship should be a prerequisite for anyone. Easi-Way Mobility understand that and have taken away the problems associated with climbing stairs. If you are experiencing any problems connected with ascending or descending a flight of stairs then get hold of Easi-Way Mobility for a free no obligations quote, and see what they offer in terms of stairlifts. They will be glad to take your call and will help you through any queries or concerns potential customers may have.
Deciding to look for stairlifts in West Kirby is a decision that will benefit anyone who requires the assistance of a mobility device. Easi-Way Mobility will handle your business with care, consideration and expertise as they will help any customer enjoy a better quality of life by retaining one's mobility and independence. For more information about stairlifts, contact Easi-Way Mobility.