05 Apr

Electric Wheelchairs in Wallasey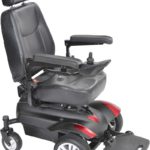 The popularity of electric wheelchairs in Wallasey has greatly increased because of their convenience and ease of use. The elderly and mobility-impaired individuals are choosing to go with electric wheelchairs because the benefits are numerous. Depending on the individual's needs and requirements, and knowing the benefits that electric wheelchairs bring, can help a person make the right decision when choosing a wheelchair or even a scooter. The advantages it encompasses includes longer distance travelled, conserving energy as in a person does not have to exert too much energy when using a wheelchair and can do other activities, and travelling on a variety of terrain is possible with the right choice of wheels.
In Wallasey, electric wheelchairs are on show at the Easi-Way Mobility showroom for clients to see the different types available. For instance, The Karma Robin wheelchair has a roomy padded seat and it is also one of the lightest tested wheelchairs on the market. It weighs about 12.4 kgs and only 8.9 kgs without the detachable parts. If you are looking for a more ergonomic wheelchair, then you might be interested in the Karma Ergo 115 model which is also available in a 20 inch wider version. This wheelchair has a maximum user weight of 115 kg and comes with a 2-year warranty for the frame. The right type of wheelchair for a person depends largely on their individual needs and daily routine, as each wheelchair has its own particular functions and benefits.
When you visit Easi-Way Mobility for electric wheelchairs in Wallasey, you will pleased to find that they also carry TGA products. For over 30 years, the company has been providing quality mobility equipment to simply the life of people. They go the extra mile in ensuring their clients are comfortable and satisfied with the products that they purchase. For advice regarding their electric wheelchairs, contact Easi-Way Mobility.