13 Jan

Trusted Mobility Scooter Repair in Chester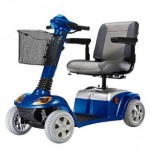 Are you in search of a company that offers reliable mobility scooter repair in Chester? In order to ensure that your scooter is in great working condition and safe to use, you will need to ensure that is well serviced on a regular basis. If your mobility scooter is in need of serious repairs, you should make sure that you employ the services of qualified personnel; particularly if you use the scooter on the road. It is important to understand a lot of the major working parts of mobility scooters are hidden beneath the scooters' body shell. In other words, you will require the services of a specialist that possesses the expertise and tools to access the parts and do a good repair job.
In Chester, mobility scooter repair services are offered by Easi-Way Mobility. The service engineers at Easi-Way utilise the latest tools, equipment, and technology to effectively diagnose and carryout repairs of mobility scooters. The engineers can also diagnose and repair powered wheelchairs and other types of mobility and disability equipment. Easy-Way's well equipped workshop is where mobility scooters are serviced and repaired. You will be glad to know that Easi-Way Mobility also has strong links with top mobility scooter manufacturers, which allows the service engineers to have access to top quality parts to do a great repair job. In order to speed up Easi-Way's response when you make a call, you will need to have important pieces of information such as scooter's Model, Make, Year of Manufacture, Serial Number etc.
Aside from providing mobility scooter repair in Chester, Easi-Way Mobility is known for being a reputable supplier of top notch mobility equipment in alliance with UK's innovative and top manufacturers. This company's major goal is to provide its valued customers the top choice of mobility products available in the UK. You can check out Easi-Way's showroom in Wirral to view a collection of top of the line manual and powered wheelchairs, profile beds, riser-recliner armchairs, powerchairs, scooters, and accessories. There is no doubt that Easi-Way Mobility is UK's one stop shop for all your mobility needs.