17 Mar

Stairlifts in the Wirral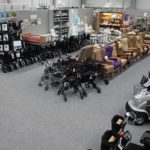 Easy Way Mobility welcomes enquiries about stairlifts in the Wirral. Our company has been meeting the areas' rehabilitative and medical supply needs for 30 years. Our 4000 sq. ft. showroom offers a wide selection of wheelchairs, scooters, riser recliners and daily living aids. We offer top quality name brands in all product lines. Our staff is informed, compassionate and friendly, ready to make your shopping experience pleasant and hassle free, Equipment maintenance and repair is available on-site. The purpose of our family business is to bring to you superior products that will improve and ease your daily life.
In the Wirral, stairlifts are available at Easy Way Mobility. Stairlifts are the solution to many issues facing elderly or disable people. When you cannot safely navigate the stairs in your home, you have to move to a single level home, hire household help or reconfigure the lower level to accommodate your needs. Installing a chairlift is by far the more cost-effective solution. Easily installed on almost any stairway chairlifts are safe as well. There is no need to lose access to any level of your own home and to your own bedroom. Installation is not complicated. Easy Way Mobility is always available to help of course but likely, an adult family member can easily install the stairlifts in two or three hours.
Stairlifts in the Wirral offer needed mobility to prevent disruption of your home and comfort. The stairlift is not a barrier to your stairway. When not in use, the seat folds up and out-of-the-way leaving a clear path. Most are low profile so there is no distraction from the beauty of your home. It might be useful to consider installing a stairlift before you need it. Older people that are already having difficulty climbing stairs because of joint pain. Now, falls are the greatest risk of injury and the kids start suggesting you sell your home and move somewhere safe. Installing a stairlift eases everyone's mind. You know you can stay in your own home and the kids have confidence that you are safe from falls. To get your stairlift call Easi-way Mobility now.