09 Jun

Lightweight Mobility Scooters in Ellesmere Port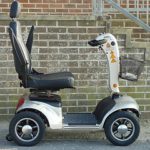 Looking for lightweight mobility scooters in Ellesmere Port? Given the wide range of mobility products available today, choosing the right type or model is difficult. Mobility scooters are a blend of life-style choice and medical device. It allows a person with limited mobility, either due to medical condition, age, physical or mental disability to retain their independence and freedom to a large extent. There are plenty of choices available, ranging in price from a few hundred pounds to thousands, depending on the purpose, features, technology, size and quality of the scooter. What most people require is a safe, reliable, easy-to-operate and relatively adaptable vehicle.
In Ellesmere Port,  lightweight mobility scooters  offer a person with disability or restricted mobility to do their own errands, shopping, commuting and attend sports, social, cultural or religious events on their own. However, before purchasing the scooter, some parameters must be kept in mind. Ask yourself what you really need the scooter for and prioritise these different requirements. Is the scooter going to be used mainly indoors or outdoors? A three-wheeler is better for indoor applications, while a four-wheeler is ideal for outdoors and uneven terrain. Your age, size and weight are other important factors that affect your decision. Cruising range and trunk-lift are other factors which help you decide about taking the scooter over longer distances. Folding or dismantling scooters are another great option if you play golf. Always try before you buy! Seating comfort is crucial, and if required, you may need to upgrade or change the seat for your own comfort. One of the hazards of bad or uncomfortable seating is that you could end up with pressure sores, aching joints or muscles. Select a fabric or covering that is removable, non-allergenic and breathable. Your budget is the last but not least consideration.
Getting lightweight mobility scooters in Ellesmere Port can make all the difference to your life-style, mobility and attitude. They are available in your local mobility store specialist advice center, physician recommended mobility equipment outlet etc. Reputed organisations like Easi-Way Mobility can offer bespoke solutions, financial advice and different payment options. If you require more information about lightweight mobility scooters, contact Easi-Way Mobility.