09 Aug

Invest in Quality Mobility Scooters in Hoylake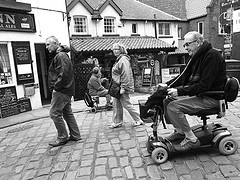 Mobility scooters in Hoylake can help you maintain your freedom without compromising on your safety. I realised that my body was no longer as young and strong as it used to be at one time. I was having difficulty with driving as my hand-eye coordination was distinctly slower compared to earlier years. However, I was determined to live my life in the best way possible and for this I needed to be independent. Where would I find a mobility scooter that would suit my personal requirement and fit into my budget at the same time? My friends recommended that I pay a visit to Easi-Way Mobility, the best firm in the Hoylake area that dealt with mobility scooters. The ageing process is natural but there is no reason for older adults to feel limited. Mobility scooters are easy to operate and riding them can be a liberating experience.
As I live in Hoylake mobility scooters that could be found at local organisations were obviously my first choice. I wasn't in the position to search wider than that and delightfully I discovered that there was no need anyway. I found that Easi-Way Mobility had the most extensive collection and they were extremely particular that their clients should gain access to the best products available. In fact, they have all the latest models and their friendly staff members would be happy to help you choose the right one. Whether you feel like visiting the shops, popping down to the pub, or just a ride along the pier, simply get on your mobility scooter and enjoy the spontaneous drive!
By investing in mobility scooters in Hoylake, you need no longer feel depressed about not being able to get around like you used to. Mobility scooters bring back the thrill and spontaneity of youth without compromising your personal safety in any way. Unlike other assistive devices, you don't need any third person to help you ride a mobility scooter. Contact Easi-Way today. Their friendly and helpful assistants are waiting for your call. Let them help you find out just how their products will improve they quality of your life.