24 Aug

Reclining Chairs In Wallasey Can Help Provide Relief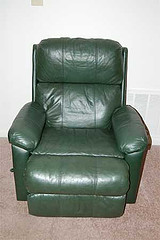 You might have decided to invest in ergonomic reclining chairs in Wallasey when, like me, you saw my elderly mother struggling to cope with back pain. When we are young and fit, getting and out of a chair can be a piece of cake but as we get older, it can be challenging to cope with sudden changes in posture. My mother took a long time to sit as well as stand up from chairs and moreover, it was proving to be a painful endeavour. She had to grip the armrests for support which was hard on her arthritic joints. You can buy an excellently designed and sturdy reclining chair from Easi-Way Mobility and will add so much value to your mother's life! She will be able to relax comfortably and the ergonomic contours support her ageing back.
Since I live in Wallasey, I compared reclining chairs from leading suppliers in the area. I found that Easi-Way Mobility stocked reclining chairs from reputed suppliers and had an impressive array of products to choose from. Reclining chairs come in different designs and are equipped with different features. Modern styles require minimal exertion your part and you can easily adjust the position and inclination with the touch of a button. I am no longer worried that my mother will have to strain her back or joints while trying to sit or stand up from the chair.
For expertly designed and durable reclining chairs in Wallasey, you may want to visit Easi-Way Mobility for their attractive and high quality products. Reclining chairs provide rest for your spine and the elevation feature also helps minimise the possibility of varicose veins. By proving adequate support for your back, reclining chairs help ease pressure on surrounding muscles, thus leading to a feeling of overall relaxation. For more information, ring Easi-Way Mobility on 0151 346 1186.