12 Mar

Reclining Chairs in Prenton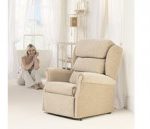 Are you looking for quality reclining chairs in Prenton? Easi-Way Mobility is a company that specialises in mobility equipment and they will be pleased to assist you. Reclining chairs are really helpful to those who have back issues and find it really hard to get in a chair and out of it. Recliner chairs can come in handy if you do not want someone to constantly be around when you have to get out of your seat. The riser recliner features of the chair will help you to sit down and stand up by yourself, and if you are sitting down for long periods of time, the chair can recline enough to make it comfortable for you.
In Prenton, reclining chairs prices and style variety on offer can cause confusion.  This was the case with a client who was looking into reclining chairs for the first time, he was quite overwhelmed by the different types of armchairs. Thankfully, the assistants at Easi-Way Mobility helped him out by asking a few questions about the reasons he is looking for one, and they proceeded to explain the few factors he should be looking at, such as, he has to be able to fit correctly in the chair with his feet on the ground. He should be able to understand and operate the chair, and any other accessories that may come with it. On top of that, he should be able to sit down in it without any issues and get up comfortably. Since the client will be sitting in the chair for long periods of time, it is important that he finds the chair comfortable. As such, he can try a few recliner chairs available at the showroom before zeroing in on one.
If you require quality and reliable reclining chairs in Prenton, you can reach out to Easi-Way Mobility. They have a huge showroom with a wide range of products designed to make your life easier. Their assistants will be there to help you should you have any enquiries. For more details about reclining chairs, you can contact Easi-Way Mobility.