19 Jun

Hospital Beds in Greasby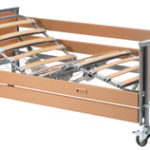 Hospital beds in Greasby are a great way to provide extra care and support for a family member. Hospital beds are sometimes called patient profiling beds and can be found in hospitals, care homes or regular homes. They differ from regular beds in that their position can be adjusted to suit the patient. The patient can sit up, lie at an angle or have the bed lowered in a hospital bed. Such beds usually have a steel framework to provide sturdy support. Where can you find these types of beds?
In Greasby, hospital beds and similar health support products are available at Easi-Way Mobility. The company has more than three decades of experience in supplying rehabilitation and medical equipment, and continence products. Supplying hospital beds is one of their areas of specialisation. On offer is the Invacare Medley Ergo Hi-Lo Profiling Bed, which is a hospital bed that offers a balance between functionality, quality and cost. It has a four-sectioned mattress which provides support and enables a wide range of height combinations. This mattress can be lowered to the floor and so reduces the risk of falls. Carers may also raise the bed to make it suitable during the provision of personal care. With this type of hospital bed, you can add more options such as cot sides, enclosed bed ends and handles to increase comfort and movement. Another type of hospital bed at Easi-Way Mobility is their Comfort Profile Bed. This is specially designed for individuals who are disabled or less able. Its double arch design makes it easy to hoist and provides an over-bed table access. This bed is equipped with decorative cording, luxury padded surround and with a stylish footboard. You can further compliment this bed with upholstery of your choice.
If you are caring for a loved one at home who has a limited range of movements, then they can benefit from hospital beds in Greasby provided by Easi-Way Mobility. You can contact them, or pay their showroom a visit to view the different hospital beds on offer. As a company that offers TGA mobility products, you are sure to find what you need at Easi-Way Mobility. For more information about hospital beds, contact Easi-Way Mobility.